Piano Teachers in New York, NY who speak French
Sometimes it is important to find a teacher who can speak your native language. Learning how to play piano in French would make it easier for you to understand everything a teacher tells you during your lessons and you would feel more comfortable speaking it.
Another reason to learn how to play piano in another language can be that you have recently learned a French language and would like to find a way to practice speaking it. And currently you are looking to learn how to play piano. So why not to try 2 things at the same time: learn piano and practice your new language, and make it all during your piano lessons? That can be a great idea and can save you some time!
Or you may already know a few languages, and just want to study piano while speaking your favorite language with your piano teacher
Regardless of the reason why you are looking for a teacher who is capable of speaking a French language, we have piano teachers in New York, NY that meet your criteria. If this is what you are looking for, then please use the list of piano teachers below for your convenience. You can click on selected piano teacher to view details about the teacher such as full description of their profile, their picture, specific type of lessons offered, video presentation or read list of reviews to make sure you get the right piano teacher to learn piano from.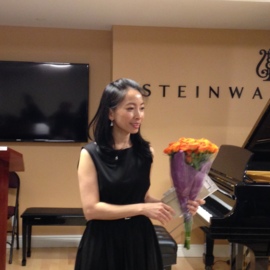 Tu Quyen Hoang Tran received initial training at music conservatories in both Vietnam and in Paris where she studied at the École Normal de Musique de Paris. After moving to New York City, Tu Quyen earned her B.M and M.A. degrees in Piano Performance at Hunter College. She was the winner of the Piano Competition at Hunter College, which culminated in a performance as guest soloist with the Hunter College Orchestra. At the Julliard School of Music, Tu Quyen studied with Dr. Julie Jordan, while at the Mannes School of Music she trained under Inessa Zaretsky preparing to audition for an Advanced Music Performance Diploma.