How Can Piano Teachers Deal with the Current Situation of COVID-19
If you are a piano teacher, Coronavirus has likely hindered your lessons and left you unsure about what to do, as it has with many others. The safest way to deal with COVID-19 as a teacher is to conduct online classes. Online classes allow you to give piano lessons from the safety and comfort of your own home.
We know how daunting taking online classes sounds, and that is why we have assembled some practical and useful tips on how to best deal with them.
By now, you have probably heard many college students and professors complaining about online classes. It is normal to be worried. Read on to learn how to deal with both online and in-person classes in this situation.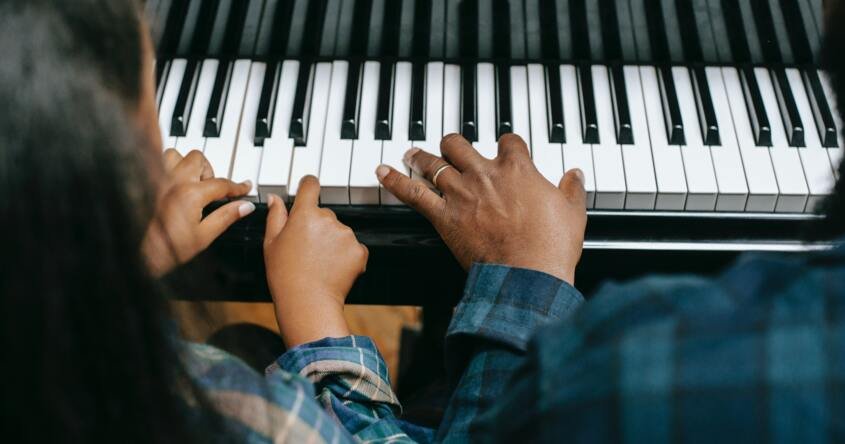 For Online Classes
Test Your Set Up Prior to Class and Check Background
Before starting your live class, test your setup.
But what does "test your setup" even mean in an online class?
It means that, aside from things like checking if your piano is in tune and in good condition, you need to check if your camera and microphone are working properly.
You also need to ensure that the camera shows you from the correct angles and in the desired position.
Moreover, you should pay attention to your background before starting a live class. Is there anything in your background that you do not wish to show to your students?
For example, you probably don't want your students to deduce what you had for dinner last night by observing the takeout boxes on your table.
Additionally, try to conduct classes in the quietest room of your house or apartment. Any background noises can be heard through the microphone, too, especially if they are very loud. This will be a problem since your students will not be able to hear you playing. So, if you live next to a busy street, try to keep your windows shut during classes.
Also, if you have any young children or pets living in your house, try to always lock the door of the room you are taking a class from. This will help minimize interruptions in your classes,
Maintain professionalism even when it comes to your background and try to keep it plain. Even an empty wall would be better than sitting in front of a wall with pictures on it and clutter all around.
Be Professional During Class
Even though your students know that you are at home, you should conduct classes in the same manner you would have if the classes were in-person.
This means that you should wear attire and behave as though it is a regular class at the academy or place you have been teaching before the pandemic happened.
It is very easy to delve into informal behavior when online. We are used to communicating in a relaxed and casual manner with our friends on social media sites, so this might take some getting used to.
Lastly, make sure that the picture for your online profile is professional and one that you would be happy to show your students and their parents.
Set Policies for Recordings
This advice goes both ways. Decide how you feel about any students recording your classes and set a policy accordingly. For example, you can ask them to agree to never post the class recordings on any social media sites or share them with any friend who does not take your classes.
Be sure to communicate your policies to your students clearly and give them a chance to seek clarity on any questions.
On the other hand, you cannot record your classes without informing your pupils about it beforehand either. You need to have a clear policy on this, as your pupils will be recorded, too.
If you are not sure about whether your pupils and their parents or guardians have consented to be recorded, do not go ahead and record the class anyway.
For recording classes, you need to take some preparatory steps.
First, craft a written policy to be shown to your pupils and their parents or guardians.
The written policy should state what you plan to use the recordings for and that you will only use the recordings for educational purposes for your students. It should also mention how long you will keep them and the purpose behind keeping them for that duration. Mentioning how you will dispose of them after that duration is also necessary.
You may also need to say that the recordings will be shared with no one else but the students and their parents or guardians.
It is very critical to ask your pupils for consent in written form before going forward with any recording.
Ensure Your Video and Audio Are Off By Default
Before starting a live class, make sure that your video and audio are turned off by default. You can make these changes in the video and audio settings of the video communication platform you are using to conduct the classes.
Also, if you are not very comfortable with technology (which is absolutely okay), take note of where the buttons like "mute" and "turn video off" are before starting your classes.
This way, if there is any interruption, like someone suddenly bursting into the room or loud commotion from vehicles outside, you can quickly mute yourself and turn the video off too if required. This will ensure that your students are not disturbed.
Now might be a good time to check if the WiFi package you have been using will suffice. With the increased usage of WiFi, you might be facing some issues with the speed.
You can call your provider and ask if there are better packages if you want to upgrade your WiFi package. They will be a bit more expensive. But if you can still afford it, consider upgrading. Given this newfound increase in dependency on the internet, the extra investment should pay off in terms of better connection and fewer disruptions in video calls.
Setting your workstation as close to your router as possible will also help you receive a strong signal and not have to worry about interruptions during class.
Set Easier Deadlines and Assignments
You probably have heard this a thousand times by now, but these are truly unprecedented times.
The pandemic has done immense damage to numerous aspects of people's lives, and your students are no different. At least some of them have lost someone that they have loved.
Some people might have had to give up their homes too.
And some more might have suffered through contracting Coronavirus themselves.
And that's not all. Some might be in a house environment that does not allow for proper learning.
The point is that everyone is going through something.
Thus, if they are struggling to perform as well as they used to do before the pandemic hit, it is okay. They are human beings, after all.
Times like this call for unparalleled compassion towards human beings. So when it comes to deliverables like assignments and setting deadlines, be considerate. Do not set tight deadlines and expect the students to meet them because they are supposed to be home all day.
Just because they might have to stay at home all day does not mean that they now have all day to dedicate to practicing the piano. They may have studies, remote work, or household chores. Some of your students may even be working as essential workers.
Moreover, most of them are not likely to be home alone. They are likely to have more distractions now, both physical and mental. So even if they are not working extra hours, they are not all sitting idle just because they felt like it.
Hence, if someone misses a deadline or fails to practice something one time, please try to be sympathetic and hear them out. Maybe they had to work extra hours to be able to pay their electricity bills. Or perhaps a family member of theirs contracted the Coronavirus. They may have even lost a loved one.
We are not asking you to let them slack off. We are just asking you to be more sensitive and compassionate about whatever situation your students might be going through now.
Moreover, the changed modality of teaching means that you may have to redesign some things. Some adjustments to assignments or your way of teaching might be due.
Finally, make sure to clearly explain everything as you go along with the class.
Use All Possible Formats to Your Advantage
Moving classes online means that you can now easily use the internet to show any tutorials that you think would help. This is not as convenient and simple in physical classes.
But in online classes, all you need to do is screen share.

Alternately, if you find any good compositions online, you can just share the link to the video or audio with your students through a text message. They can listen to the composition in their own time, this way.
Also, if you have good lighting in your room, you can set up an arrangement using your smartphone to show your piano keys as you play them during the class.
If you don't live beside a busy or loud street, consider taking a class with your curtains opened. This will allow natural sunlight to light up your room and make everything look bright and fresh.
If that is not the case for your house, it is okay. You can use a virtual piano.
You can also share your screen. Since it is online, it will be easier for your students to identify which notes you are hitting.
Times like this require changes, and you may have to change your hours or pay.
Many people have lost their jobs or received salary cuts. Thus, you can think of what ways you can take to make your lessons more affordable. More affordable lessons may mean you get more students.
If you have never offered group lessons before Coronavirus, this may be a good time to start. Private lessons are obviously the holy grail of piano lessons, and hence are extremely expensive. But group lessons can be much cheaper for the students individually, while you can earn a good amount of money by investing the same amount of time in one session.
You can change the frequency of classes as well. Although, from a piano teacher's perspective, weekly classes are a must, some students may not be able to afford the expense associated with such frequent classes. Discuss taking classes every other week for students struggling with finances. If you are willing, you can even offer a small cut in the fee for them.
Some students may even have to temporarily discontinue. We know how much a break like that can hamper all that they have learned so far, but sometimes, there are no other options. All you can do is wish the best for them and hope that they will be able to resume their classes soon.
For Physical Lessons
Make no mistake - online piano classes are the safest way to conduct classes at this time. But if you are offering in-person lessons, or at least an in-person component to your lessons, here is some advice.
Firstly, do not compromise safety. Ensure that none of your students or their cohabitants are infected and that they take precautions against COVID-19 when coming to your lessons.
For reliable information and guidelines on how to take precautions against COVID-19, ask them to read CDC or WHO's websites.
Ask all your students and any guardians who attend to wash their hands with soap on arrival. Keep tissues, gloves, and extra masks at hand.
Between every lesson, wipe your piano keys using a fabric dampened with a good disinfectant. Do not spray anything onto the keys directly, as it may damage them. Ask your students to do this if you travel to their houses for lessons.
If any of your students or their cohabitants fall sick, offer them the option to take online classes.
Lastly, if you cannot ensure that all precautions are being taken, please don't think twice about conducting classes online. Many piano teachers are doing it, and you can, too.
Change Is Hard Enough. We Are Here to Make It Easier for You.
With the connectivity problems that lead to sound quality issues, online classes are difficult enough as they are. Even physical classes are more draining than before, considering all the preparatory steps.
However, there are many aspects of piano lessons in these times that do not need to be difficult.
All you need to do as a piano teacher is sign up for The Best Piano Teachers.
We will work hard to make sure that all you have to focus on is conducting the online lessons.
You can easily find remote students through our website after registering. Scheduling classes is no more a hassle, as our website will help you schedule and keep track of all class timings so that you can manage time for all your students.
Also, with digital invoices, invoicing online students will be simple using The Best Piano Teachers. Since there will be a digital footprint, you will not have to worry about any mistakes.
Furthermore, you will also receive online storage. So, you can send your students any digital files that they will find helpful for their piano studies.
If you have any queries or want to know more about what else you can do with this amazing platform, get in touch with us today.
Is there any tip that particularly helped you during this difficult time? Let us know in the comments!