Piano Teachers in New York, NY who teach Classical Piano Lessons
On this page we have prepared you a list of piano teachers in New York, NY that accept new piano students. Please choose one that you like and click on a selected piano teacher to see more details about it, and on that page if you have any question, you can always contact that teacher directly with the help of a contact form on the public piano teacher profile page, once you do that, please give 1 day for a teacher to reply to your message.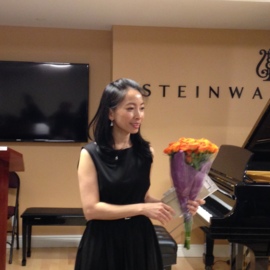 Tu Quyen Hoang Tran received initial training at music conservatories in both Vietnam and in Paris where she studied at the École Normal de Musique de Paris. After moving to New York City, Tu Quyen earned her B.M and M.A. degrees in Piano Performance at Hunter College. She was the winner of the Piano Competition at Hunter College, which culminated in a performance as guest soloist with the Hunter College Orchestra. At the Julliard School of Music, Tu Quyen studied with Dr. Julie Jordan, while at the Mannes School of Music she trained under Inessa Zaretsky preparing to audition for an Advanced Music Performance Diploma.