15 Easy Piano Songs You Can Practice As A Beginner
Music is formed of rhythm and pitch. Sometimes, music would move from one note to the next in a heartbeat. At other times, it would go nice and slow. As someone who has just started playing the piano, you definitely don't want to start with Mozart's Piano Sonata in D Major in the first go. You should rather begin your practice with easy piano songs that have a relatively simple rhythm and fairly easy notes.
There are so many things to consider here. Playing the piano means engaging both your hands at the same time. However, if you haven't played ever before, feel free to start playing with one hand. Learn each hand at a time before you start playing with both hands together.
Moreover, make sure you use the most convenient finger while playing each note. This will take a bit of experimentation. So, work out whatever works best for you. You'd want to maneuver your fingers from one note to another easily. Once you've found the right combination, play the notes with the exact same fingers every time you play. This will make learning the song much easier.
How To Identify Piano Songs For Beginners
Now, your piano didn't come with an instruction manual on which piano songs will be easy to play for a beginner. In this case, there's both good news and bad news. The bad news is you will have to know how to read sheet music. This will sound like learning a new language, but the good news is it isn't as intricate as it sounds.
Once you know what you're looking for, reading sheet music will be seamless. Having a piano teacher can tremendously help you in this regard. Find a piano tutor according to your location, budget, time, and convenience. Your teacher can then guide you in mastering sheet music language efficiently.
A simple piece of sheet music can tell you everything about a song's difficulty level. You should look for songs that have a relatively steady tempo, easy rhythm, and short verses. As a beginner, it's best if you avoid songs with large intervals where you need to hit a lot of chords. Starting your piano practice with a song like November Rain by Guns N' Roses may unnerve you a little.
So, how do you identify the signs on a page of sheet music that tells you how easy or difficult a song is? Here are some helpful attributes you'd want to look for:
Easy chord progressions

Repetitive tunes

Broken up chords, otherwise known as arpeggios

Songs you can simplify

Not having to jump around the notes
Here, we have listed 15 different songs that possess all these qualities to some degree. Without further ado, let's dive right in!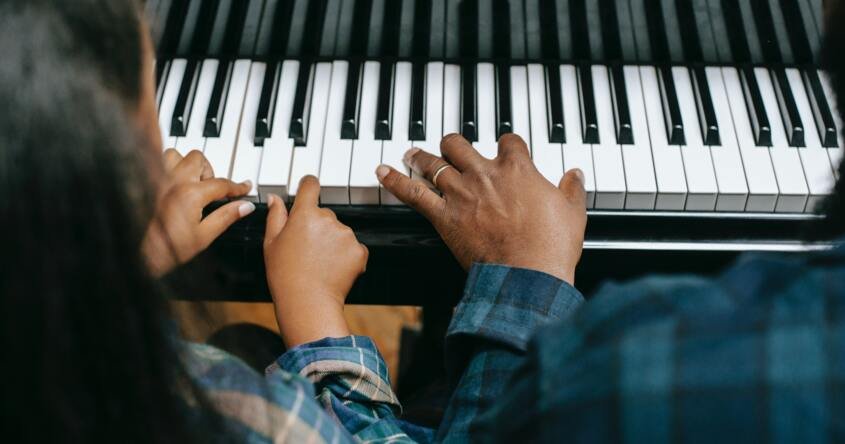 15 Easy Piano Songs To Practice As A Beginner
1. Twinkle Twinkle Little Star
Twinkle Twinkle Little Star is perhaps the most popular nursery rhyme out there. Kids will definitely enjoy learning it as their first piano song. Moreover, even if you are an adult, you can largely benefit from learning this song. Because of its simplicity, Twinkle Twinkle is a brilliant starter for anyone of any age. Start by putting your finger on note C. You will find that except for the highest note, all the other notes will be right under your fingers. You can also add variations in the rhythm if you feel like it.
2. Happy Birthday
Happy Birthday is not only a fun song to learn as a beginner but also incredibly useful. Imagine yourself at a friend's birthday with a piano nearby. You can play the keys while others hum with you in the same tune. There is no better way to awe your friend on their special day.
Similar to Twinkle Twinkle, Happy Birthday starts with note C. But there is an octave jump from one C to the next. If you play the first C with your thumb, it will then be convenient for you to play the next C with your little finger. All the other notes will be right under your fingers. Ask your piano teacher to help you get the fingering right.
3. Lean On Me
Lean on Me by Bill Withers is definitely a crowd-pleaser. Almost everyone you know has heard this song, or at least the chorus.
This song might feel challenging when you hear the original recording with actual piano playing in the background. But even when you play the basic chords and rhythms, you will get the same effect.
Lean on Me is the kind of song you will want to sing along to the most. With your right hand, the chord progression will go as follows: C-C-Dm-Em-F, F-Em-Dm-C, C-Dm-Em-Em-Dm. The chords will shift a little afterward. With your left hand, all you need to do is play C-D-E-F.
4. Jingle Bells
With its timeless chorus, Jingle Bells is one of the easiest piano songs to learn as a beginner. Everyone knows the tune, and you'll find several repeated notes within the song. Knowing the tune like the back of your hand makes it a lot easier to master a song on the piano. The verse is slightly complex, but it's nothing too difficult.
5. Let It Go
With its beautiful rhythm, Let It Go has become quite a piano classic. Both kids and adults love engaging with this song. The chords are pretty simple, and the piano part is absolutely iconic. When playing this song, you can adjust the tempo according to your convenience.
6. Hallelujah
At this point, you have probably mastered a couple of songs with your right hand. It's now time to make a move and learn how to use your left hand.
Music is based on chords. Hence, learning how to play the chords right should be the next logical step. Hallelujah by Leonard Cohen is by far one of the most beautiful and yet an incredibly easy piano song for beginners. You can ask your piano teacher to help you play the chords with your left hand while playing the melody with your right.
7. Can't Help Falling In Love
Think of Elvis Presley, and the first song that will strike your mind is his timeless creation, Can't Help Falling In Love. It is an absolute crowd-pleaser that has won the heart of millions.
This song also features a riveting chord progression that will allow you to practice arpeggios.
8. Havana
Havana by Camila Cabello is an embodiment of fun and lovely. It has a slightly more intricate tune and an off-the-beat rhythm, making it a little challenging for beginners. However, as you keep progressing with your piano practice, you'll eventually catch the rhythm right.
Remember to take one step at a time. Havana might not be as simple as Twinkle Twinkle, but with a little bit of practice, it'll seem like an easy piano song for beginners.
9. The Git Up
The Git Up by Blanco Brown has such a simple and repetitive melody that it ends being an extremely catchy song. Since The Git Up is a pop song, everything in this piece repeats. Hence, once you learn how to play it, you can master the entire song by heart. Ask your piano teacher to help you adjust the speed as per your convenience.
10. Prelude in C Major
Prelude in C Major by Johann Sebastian Bach is one of the best piano songs you can learn when you start practicing some of the classical rhythms on your piano. This prelude mostly consists of broken chords and is 35 bars long. While it ends with a single C major chord, you can definitely try different variations in several notes.
Of course, it isn't as easy as the other songs mentioned in this article. You need to be able to move your fingers around the piano with both your hands. In this piece, no two notes are played at once. That means you will only play one note at a time despite using both hands.
When you hear the piece for the first time, it is natural to feel unnerved. But with a little practice and loads of support from your piano teacher, this song will soon feel like a piece of cake. Every pattern of notes in this piece comes in twice. So, once you have the pattern down in each measure, all you need to do is repeat it time and again. Take one note at a time, and you'll have it down in no time.
11. Let It Be
How can you start your journey as a piano enthusiast and not play a song by The Beatles? Let It Be is undoubtedly a timeless classic and one of the easiest songs you can practice on your piano. In 2011, this piece ranked as the 8th best song by Rolling Stone Magazine. Just repeat the chords C-G-Am-F with your right hand, and then move on to C-G-F-C.
12. Fur Elise
Now that you have mastered Prelude in C major by Bach, you might as well be ready to tackle Beethoven and one of his most famous piano pieces, Fur Elise. Yet, it really is one of the easiest piano songs you can practice once you are comfortable playing with two hands.
Fur Elise also consists of a couple of black notes. As a beginner, the very first section of Fur Elise should be the most interesting piece for you. The second section is a big jump as it requires moving with your hands a lot. Hence, stick to the first part for a while. That's the part most people know anyway, so don't forget to impress your friends with this piece.
You will need a ton of help from your piano teacher for this piece. If you are yet to find someone suitable, The Best Piano Teachers is right at your disposal to help you look for your best match.
13. All Of Me
Released in 2013, John Legend's All of Me took all our breaths away with its beautifully composed piano piece. For quite a while, people couldn't help but hum this song in their heads. This song also won the Billboard Music Award for Top Radio Song.
As for the intro, you only need to repeat two-note chords. First, play F-C and F-Db, then move to Eb-C and Eb-Bb. There's not much to master with your left hand because you'll only be playing one note at a time.
14. Someone You Loved
Lewis Capaldi pulled off magic with his song, Someone You Loved. It is a song that topped the UK Singles Chart in March 2019 and remained unbeatable for seven weeks. Later, in November 2019, it ranked as the #1 song on the US Billboard Hot 100, besides winning the 2020 Brit Award for Song of the Year. It's a heartwarming song to play, and that, too, with just 4 chords.
At this point, you should be able to notice the pattern in pop songs. Pop songs do not use a lot of chords and have a simple flow. This is great news for beginners because that makes it very easy to play and master these songs.
15. Thinking Out Loud
Thinking Out Loud by Ed Sheeran, the mega-hit of 2014, is a song you MUST learn as a beginner. With your left hand, play D, F#, F#, G, A. With your right hand, move along the chords F#/D/A, G/D/B, and E/C#/A. You can also take the help of your piano teacher to figure out what works best for you.
Final Words
Learning to play the piano will not come to you overnight. But with these 15 easy piano songs, your journey will be much easier. Besides these relatively simple pieces, having the best resources can really make a difference. With the help of The Best Piano Teachers, you can find a suitable piano tutor for yourself who will continually guide you in your journey to become a piano maestro, making your piano practice sessions meaningful, fun, and engaging. Sign up today to find your perfect tutor!
By the way, which song are you going to get started with? Let us know in the comments below!