20 Captivating Piano Pieces You Need To Learn
As a piano enthusiast, you may often find yourself searching for piano pieces that will bewitch your audience. There's something incredibly powerful about this instrument. Every note in the piano has a tender touch to it that speaks directly to your soul. If you're looking for classics to learn on your piano, look no more.
In this article, we have curated a list of breathtakingly captivating pieces just for you. Since they are quite advanced pieces, you can also take the help of your piano teacher to learn them well. If you're looking for one, The Best Piano Teachers will be at your disposal to find you your suitable piano tutor.
Note that we have divided the pieces into two segments - early intermediate and late intermediate. If you're a piano student well-acquainted with notation and piano technique, you should then be able to play the early intermediate pieces just fine with a bit of practice.
However, the late intermediate pieces we have listed demand more advanced technical skills. You will also need to be highly proficient in reading sheet music and getting the fingering right.
Without further ado, let's get started!
Early Intermediate Piano Pieces
1. Vivace
Composed by Franz Joseph Haydn, Vivace from Twelve Easy Pieces is yet another classical piece that soothes your soul. Vivace features arpeggiating left-hand melodies along with a bouncy right-hand rhythm. It also consists of frequent accidentals and relatively advanced tunes. 1. Sonatina in G, Anh. 5, No. 1.
2. Sonatina in C, Opus 36, No. 1
Sonatina in C is another beautiful representation of classical music. Composed by Muzio Clementi, this piece consists of a couple of 1-octave arpeggios and scale-like passages. For intermediate learners, Sonatina in C is a must-learn for its beautiful melody.
3. Wild Rider, Opus 68, No. 8
Composed by Rober Schumann for the album For The Young, Wild Rider is a romantic piece consisting of a basic rhythmic line. In the B section, its melody slowly moves to the left hand. Wild Rider's carefully curated staccato notes make it a masterpiece to try out for intermediate pianists.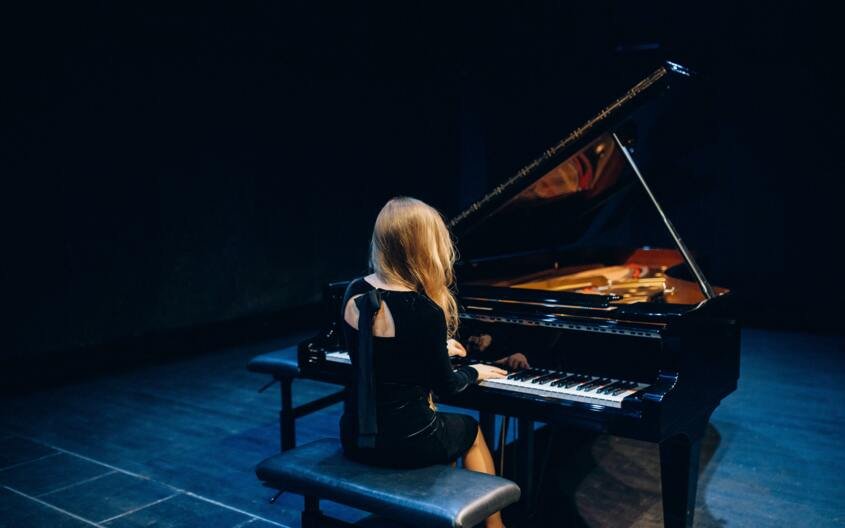 Photo by Nataliya Vaitkevich from Pexels
4. Minuet in G, BWV Anh. 114
Composed by Johann Sebastian Bach, Minuet is a brilliant starting point for Baroque music. This captivating piece consists of an easy accompaniment and rhythmic phrases. It will also give you a chance to refine your staccato techniques.
5. Solfeggietto
Composed by Phillip Emanuel Bach, Solfeggietto is another classical beauty that goes right to your heart. While it may sound a little complex initially, you'll soon be able to master this piece once you get the hang of its predictable patterns and simple chord arpeggiations.
6. Prelude in E minor, Opus 28, No. 4
Prelude in E minor is a piece of romantic style music composed by Frederic Francois Chopin. The piece is known for its beautiful melody, and the challenge lies not in its notes but in how you can play the notes. You'd need impeccable phrasing, balancing, and musical expression to breathe life into this piece.
7. Horseman
Horseman, from Children's Pieces Opus 27, consists of rich harmony and bouncy melodies. Composed by Dmitri Kabalevsky, this contemporary piece gives you ample scope to work with different accidentals using its chromatic chords.
8. Prelude In C Major
Prelude in C Major from The Well-Tempered Clavier is yet another masterpiece composed by Johann Sebastian Bach. A beautiful representation of Baroque style, this piece can give you a range of opportunities to explore and experiment with dynamic changes in its tone. Make sure you practice this piece multiple times to execute the release and tension right.
9. Arietta, Opus 12, No. 1
Composed by Edvard Grieg, Arietta is a romantic masterpiece that demands getting your fingering right. If you're still struggling with fingering techniques, we'd suggest you try this piece later. Featuring a simple rhythm, Arietta's tune is divided into three voices with a flowing arpeggiation.
10. Sonatina in G
Composed by Ludwig van Beethoven, Sonatina in G elegantly demonstrates the classical piano style. This piece consists of arpeggiated left-handed chords and occasional 2-note slurs.
Late Intermediate Piano Pieces
11. Für Elise
Yes, you've probably dreamt of playing Für Elise by Beethoven from the start of your piano journey. This classical beauty is one of the finest musical pieces in the piano world. While the introductory section is easy to play, you'd require absolute patience and dedication along with advanced skills to learn the entire piece.
12. Invention No. 8 in F Major, BWV 779
Composed by Sebastian Bach, Invention No.8 in F major is a nice starting point for advanced playing. You'd require the perfect coordination between your left and right hand throughout the piece. There are intricate tunes in several places of the piece. Slow and steady practice is key.
13. Movement 3 (Rondo Alla Turca)
You didn't really think we'd curate a list of captivating piano pieces and not include Mozart, did you?
Rondo Alla Turca by Wolfgang Amadeus Mozart consists of a series of exotic tunes that soothes your mind. Your right hand will have to have precise articulation while your left-hand shifts between strongly rolled chords and a simple accompaniment.
14. Sonata in A, K. 113, L. 345
Composed by Domenico Scarlatti, Sonata in A is a beautiful Baroque-style composition that's a must-explore for piano enthusiasts. This piece requires complex finger work and quick hand crossing techniques.
15. Sonata in D Hob. XVI/37
Composed by Haydn, Sonata in D Hob is a piece that features some of the common elements of the classical sonata, including but not limited to left-hand accompaniment, scale-like passages, and precise articulation.
16. Gymnopédie No. 1
Composed by Erik Satie, Gymnopédie is a contemporary masterpiece. As easy as the tune sounds, it's actually quite difficult to master. You'd have to approach the music with caution and care. Your left hand would have to get into a leaping rhythmic pattern with a higher chord and loss bass note. Make sure you go slow and steady with the notes.
17. Prelude in D-flat Major, Opus 28, No. 15
Composed by Chopin, this romantic piece practically takes you through a thunderstorm. The piece begins with the soothing sound of raindrops, followed by a theatrical bout of lightning and thunder before going back to the sound of rain again. You'll need an advanced skillset to execute the raindrop effect and accomplish the scenes of thunder.
18. The Entertainer
Scott Joplin's contemporary piece, The Entertainer, is a brilliant representation of a ragtime style. This piece consists of bass patterns on your left hand, syncopated rhythms, and quick progressions on your right. You'd need to have plenty of technical skills to play this captivating music.
19. Clair de Lune
Claire de Lune is one of the most popular contemporary pieces composed by Claude Debussy. The melodies are quite complex and thus takes on a journey of various musical sections throughout the entire piece. You'll need a soft yet controlled touch to master this beauty.
20. Movement 1 (Moonlight Sonata), Opus 27, No. 2
When you're trying to master advanced pieces, you can't get enough of Beethoven. Moonlight Sonata is one of his finest musical compositions, and while its introductory section may seem relatively simple, you soon realize why it's listed under late intermediate pieces.
The music features a series of intricate piano techniques like poly-rhythms, complex harmonies, and large chords. You'll hear multiple voices throughout the piece, and every one of them demands special attention to details.
Final Words
We genuinely hope you loved all the 20 masterpieces we've listed for you to play in front of your friends and family. If you're interested in taking your piano skills to the next stage and require any guidance, opting for a piano teacher would be a wise decision. And with The Best Piano Teachers, you can find your desired tutor who will guide you throughout your piano journey. As a student, all you have to do is sign up for FREE to accomplish that goal!
By the way, which of these captivating pieces are you going to start with? Let us know in the comments below!