6 Best Unweighted Piano Keyboards for Beginners
The first thing a piano learner needs to acquire is a piano. There are many types of pianos to choose from, including weighted and unweighted keyboards. The unweighted keyboards are also called synth-action keyboards. These keyboards have less weight in key resistance but may have a touch response.
Unweighted keyboards have great built-in features for the new players. In this article, you will find 6 of the best unweighted piano keyboards for beginners.
6 Best Unweighted Piano Keyboards for Beginners
1. Yamaha PSR-E373 61-key portable arranger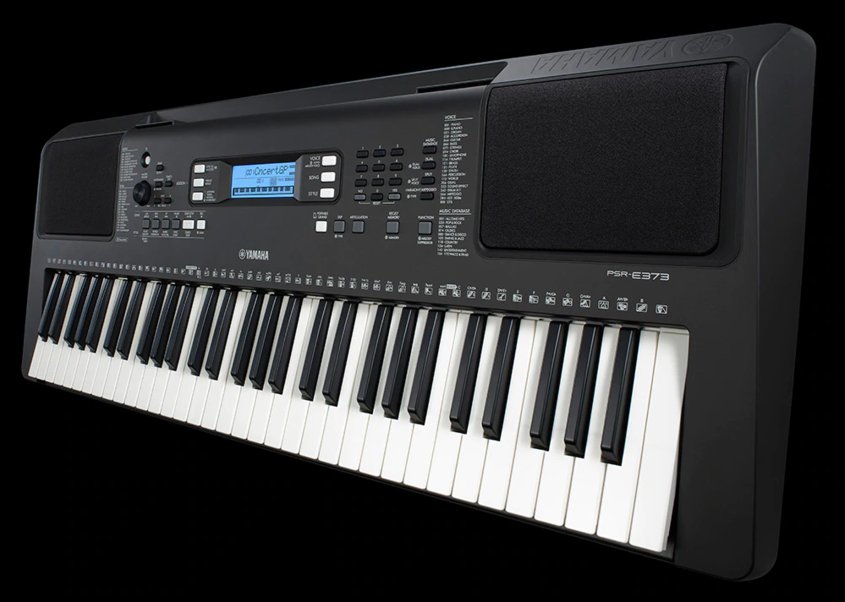 Source: Yamaha
The Yamaha PSR-E263 keyboard is one of the best beginner keyboards out there. The keyboard is pretty great and well known for its budget option at around $199.99.
The keyboard is a 6-key portable arranger targeted towards teaching beginners and people who take piano as a hobby. The dimensions of the keyboard are 14.5 x 37.19 x 4.63 inches.
It has tons of features, including 622 instrument sounds, velocity-sensitive keys, and onboard lessons. There is USB to HOST connectivity features that include MIDI and audio transfer to record songs into your DAW.
The keyboard features SAlite or Super Articulation Lite Voices that create a sense of realism to the sound. Even the look and feel are polished and well-made.
The keyboard has Yamaha's AWM (Advanced Wave Memory) stereo sampling engine that can recreate the sound of acoustic instruments in their natural form. It plays back to your sound of various playing strengths. You can save the setting in the Registration memory.
The built-in Yamaha Education Suite can teach you beginner steps and essentials easily. The touch tutor lesson feature will help you track the velocity of the keys you're playing. Once you get the hang of it, there's a duo mode for you to practice with someone.
You can even practice preset songs or even your songs through aux-in. Lastly, we need to understand how compact and lightweight the keyboard is, making it extremely comfortable and portable.
Overall, this keyboard is amazing for new players.
2. Yamaha Piaggero NP-12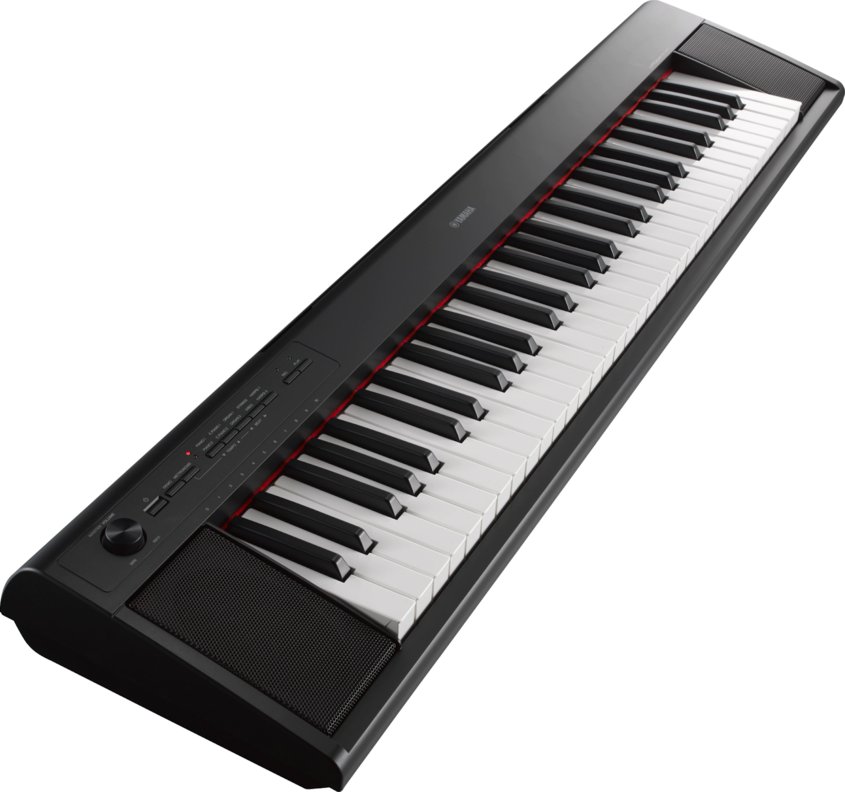 Source: Yamaha
The Yamaha Piaggero Np-12 is a compact, lightweight, and portable piano. This piano is excellent for young learners and is packed with tons of features. There is an NP-32 version available with 76-keys which are Graded Soft touch, and it's a slightly bigger size.
Yamaha Piaggero NP-12 has dimensions of 46.9 x 14.1 x 7.7 inches. The keyboard has 61 touch-sensitive keys with Yamaha's very own Advanced Wave Memory Stereo Sampling enabled.
Being a Piaggereo NP Piano, this keyboard has lots of unique features such as 64-Note polyphony, half-damper control, as well as an optional FC3A pedal, built-in features, and can run up to five hours on six AA batteries.
The piano is $199.99, so it's a great deal for a keyboard packed with features.
The NP-12 has a rich sound, considering the price bracket. There are 10 sounds of high quality included, including 2 grand and soft piano, FM-synthesis-based Electronic Piano, 2 pipe organs, Orchestral Legato Strings, and a few others.
The NP-12 has a compact size suitable for new learners who are not yet ready to play a full-size, weighted keyboard. Still, you will get the best samples from the best pianos available as Yamaha itself records the samples.
You can get familiarized with the details of the recordings with the built-in demo. You'll also find the metronome, record, and play buttons on one side.
The keyboard has a USB-to-host for easy connectivity, and it's also compatible with Yama's iOS apps, which can get you a nice interface for essay navigation. You can connect external speakers via the headphone jack.
The new Yamaha Keyboards have a free, three-month Flowkey Premium membership which includes the NP-12 too.
The Np-12 nails down on the basics of the keyboard, and you can get an amazing experience once you get your hands on this keyboard.
3. Casio Casiotone CT-S300 Portable Digital Keyboard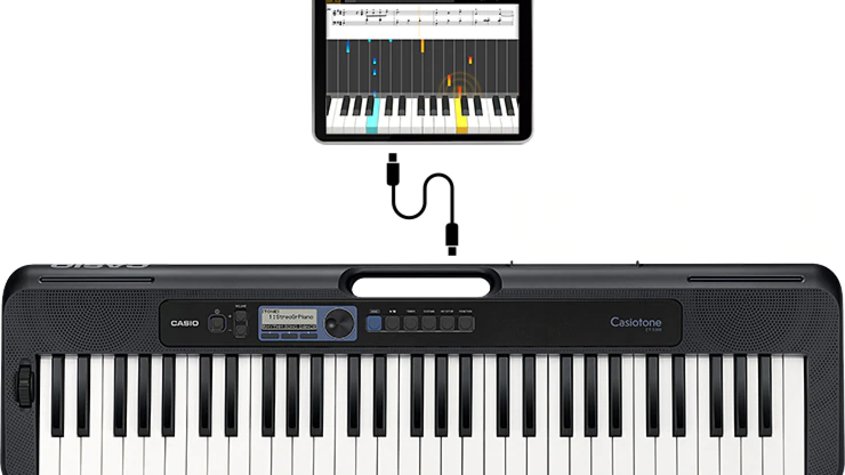 Source: Casio
The Casio Casiotone-S300 is an ultra-compact and portable keyboard designed to give you the best experience at a great price point.
The keyboard's price is $14, ais a sweet deal for a keyboard packed with such great features.
CT-S300 has a portable size of 930 mm x 256 mm x 73 mm, approximately 30% smaller than the CTK-3500.
This keyboard features a whopping 19 hours of battery life. However, this might vary depending on the type of battery you use. It weighs 3.3kg with a grip at the top side, making it easy to carry. The design is rounded and safe to carry.
The touch-sensitive 61 keys feel great, and they light up when played. The keyboard is made of plastic and is quite durable against long-lasting damages, scratches, and marks.
The touch response imitates like a piano and also changes volume depending on the force you give. There are 48 notes of polyphony present here.
There are dual 2.5W speakers on the keyboard that are stereo and crisp, making it easy to hear the music you play. Also, there is an output mini TRS jack present. You can plug in external amplifiers, speakers, and also as a headphone port for private practice. The keyboard also comes with a USB to host a micro B jack.
A clean interface is present here, which offers few buttons and a dial for full functionality displayed on the LCD screen. It has a home button to let you jump back to the original screen.
These multi-functional keys make this keyboard an enchanting experience. There is a pitch bender wheel present to add realistic sounding guitar effects and other nice sound effects.
The CT-S300 has a mode for you to play different types of music, including 12 types of Dance music voices that go along with dance music. It even lets you play the drum, bass, and synthesizer phrases together.
You can press along and enjoy the music. The keyboard supports the Chordana Play app, which has 50 in-app demo songs. All of these neat features make the keyboard an amazing choice.
4. Roland GO: PIANO 61-key Digital Piano Keyboard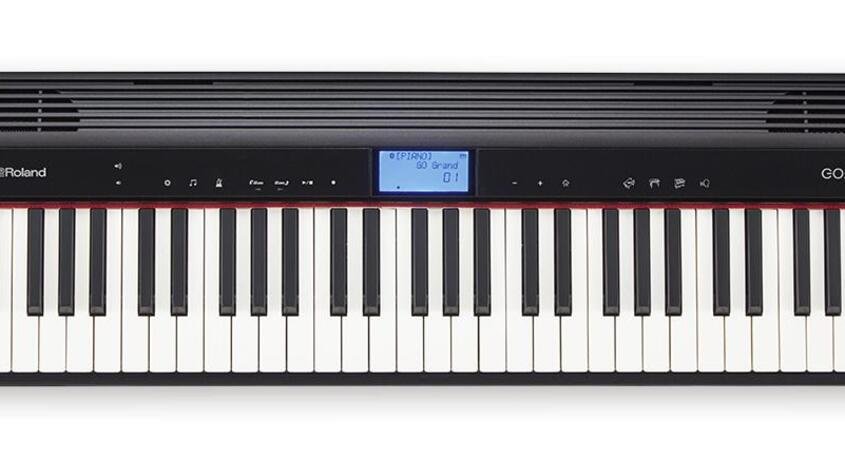 Source: Roland Go
The Roland GO: PIANO is a 61-key digital piano keyboard aiming to give you a wholesome experience of learning the piano.
The keyboard is an ideal first piano for people who are learning the piano for the first time. The standard size will help you move on to real piano soon. The keyboard has full-size piano keys with amazing responses developed by Roland themselves.
The keyboard is 34.56 x 10.69 x 3.25 inches and weighs 8.62 pounds. The body feels premium and well-made. The keys have an ivory feeling to them and are kind of box-shaped.
Roland GO: PIANO has a built-in Bluetooth feature for both audio and MIDI. You can use any device to get connected via Bluetooth and use it as a Bluetooth speaker even. You can select a song from your device, stream it to the keyboard, and play along with your favorite music easily.
As you progress in learning the piano, this keyboard will help you with the wireless solution. Remember, you can even use the keyboard as a MIDI controller without worrying about extra wires.
Roland GO: PIANO is great for its practice sessions and onboard learning facilities. You can track your progress with the amazing set of tools, all accessible via the front-panel controls.
The keyboard also consists of a built-in recorder to capture what you play. The speakers are 2.5W and quite good for all purposes. Headphone jack, Aux port, and Pedal jack are also available. The keyboard has a USB connection to it, too.
The keyboard has 10 piano, 7 electric piano, 7 organ, and 16 misc tones included in its presets. The keyboard also has a 128-note polyphony in it.
Even if you're an experienced player, The Roland GO: PIANO is a great choice. All the features packed into this keyboard make it worth purchasing.
5. Yamaha PSS-F30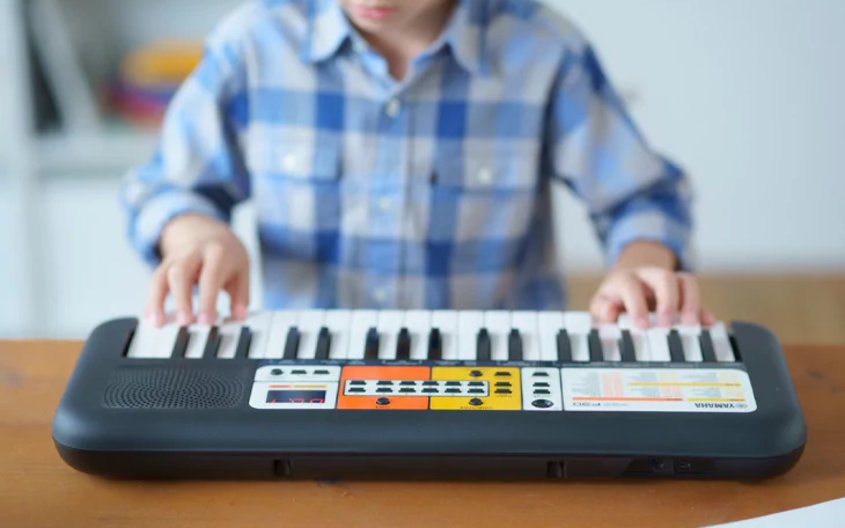 Source: Yamaha
The Yamaha PSS-F30 is the perfect choice of keyboard for your child. The keyboard is colorful and appealing, making it an ideal choice for children to start learning the piano.
The mini keyboard has 37 mini-keys, making this keyboard very portable and easy to use for your child. The keys are good enough for your child to engage with and play some music. The keyboard's dimensions are 21.5 x 9.1 x 3.8 inches, and it weighs 3.79 pounds. It also uses 4AA batteries.
The keyboard has a collection of music in its library which will help your child discover new sounds. The player has 120 instrument sounds, including pianos, guitar, woodwinds, percussion, and many more. If it's intended for solo practice, one can select from 114 auto styles that make the playing experience feel like a real band. The keyboard includes 30 songs on it so that your child can have fun while listening along. The songs are famous and fun too.
The keyboard even has a headphone jack so your child can play privately without you having to listen to loud noises. The keyboard is USB powered, but the power adapter is sold separately.
The speakers are small but sound pretty good, which your child will appreciate. The keyboard features a metronome function that can help your child with timing and counting while playing the piano. The metronome has a rhythm of 11-280 bpm. There is a sustain function available that will get you to sustain for an unlimited amount of time without the need for a pedal.
The keyboard has a Smart Chord function available which can help your child play a full chord of 3 notes by just playing one note. Learning about chords earlier on will help your child in the future. The chords are sometimes hard to get with both hands to easily play the chord with one finger.
Overall the keyboard is pretty decent, and your child certainly will love it.
6. Alesis Virtue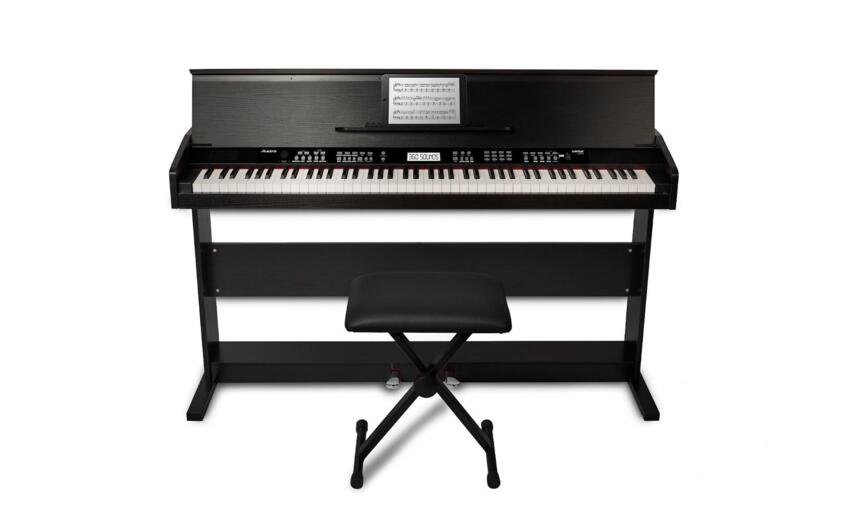 Source: Alesis
The Alesis Virtue is an 88-key digital keyboard with neat features which will give you a surreal experience playing the piano.
The keyboard has velocity-sensitive keys, allowing you to adjust the volume and sound the keyboard makes, thus helping you practice dynamic controls. Alesis Virtue 88-key keyboard costs $419.00, which is fairly inexpensive considering the features you get.
The keyboard's dimensions are 55.9 x 18.9 x 10.6 inches, and it is 85.2 pounds in weight. It's well made and sturdy. The piano comes with a piano stand and a music rest with 3 Pedals.
The keyboard has 360-built sounds that feel realistic, covering many instruments such as acoustic and e-pianos, strings, brass synths, and much more. You can even combine the sound via a mode called a layer. You can also split them across the keyboard. Moreover, there are reverb and chorus effects built into the keyboard.
Alesis Virtue keyboard features 80 built-in demo songs and a mode that lets you play songs with just a touch accompanied by 160 built-in styles.
This method helps you create music in different genres. If you love what you're playing, you can record it using record mode. The keyboard provides you with 3 months of Skoove Premium service as well as a 2-Month TakeLessons live.
The keyboard has a great backlit LCD screen which will show which chords you're on and its notation. Stereos, Headphones, and USB-MIDI output are there for your convenience.
All these features make this keyboard a good buying option for beginners and experienced players too.
Final Words
These were some of the best-unweighted keyboards for you to check out. Note that at the end of the day, it all comes down to what you want from your learning experience. All the keyboards we have listed are fantastic choices. Now, it's time for you to list down your requirements and find the right one for yourself!

Which one of these keyboards are you thinking of purchasing?