10 Best Online Piano Lesson Apps for Android to Learn Piano in 2021
There are so many piano enthusiasts out there, but not everyone wants to physically commute to another place to take piano lessons. Some also want to learn the piano at their own pace and method. And that is precisely where various piano applications come into action.
There are quite a handful of piano lesson apps available today, with different apps offering different features and learning methods.
Here are some of the best piano lessons apps for Android you can use right now!
10 Best online piano lessons apps for Android to learn piano in 2021
1. Flowkey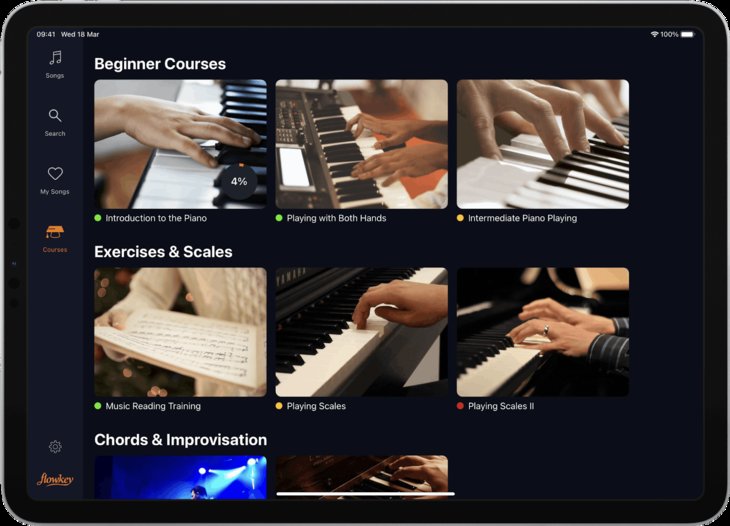 Source: Flowkey
Flowkey is an all-around piano learning app for new learners, practicing students, and expert players.
The app has songs of different categories from classical, Pop, Jazz, and so on. It also contains music that matches the mood - be it happy or melancholic.
Moreover, Flowkey features videos on piano positioning or posture, sight-reading, and theory-based music learning. The app is aimed towards new learners who aren't used to reading sheet music yet.
Flowkey is free on the Google Play store, but the app subscription starts from $19.99 a month. You can simply opt for a free trial if you just want to test the waters and see if this app is the right fit for you.
At first, the app will ask you about your experience in piano, what your goal is, etc., to personalize the app to your taste. This includes learning songs, notes, and theory. You play the notes on your piano while the device mic will pick up the notes it hears. You can alternatively plug in your keyboard to your device directly. Follow the connectivity guide for further info.
Flowkey contains a wide variety of music for you to choose from. The app offers beginner to Pro level songs. You can listen to a preview of the song first, then proceed to play the piece with the app's help. You can use a split-screen to view music and can even set speed.
The app provides theory courses for new players to teach the basics. Advanced players will not benefit much from these courses.
While the app can help you with the basics, it is not that great for learning techniques involved in actually learning the piano. Overall, it's a great app for learning the fundamentals of playing piano and practicing songs.
2. Simply Piano by JoyTunes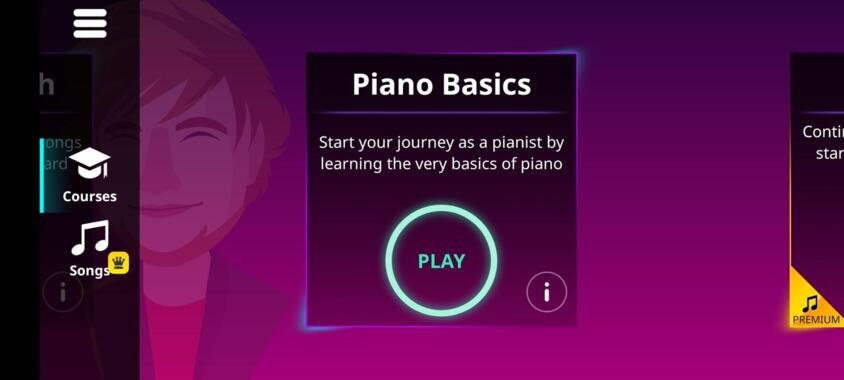 Source: Simply Piano by JoyTunes app
With the Best App of Google Play award, Simply Piano has cemented itself as a piano learning platform with interactive and step-by-step lessons and a game-like format.
Similar to other piano learning apps, users can connect their piano with USB MIDI, and the app can pick up notes with the device's mic. The setup and first-hand experience are rather simple. Also, the app asks you if you're a beginner or an expert to set lessons accordingly.
Simple Piano has a 7-day free trial for you to experience before getting a subscription. After it expires, it is $59.99 for 3 months, $899.99 for 6, and $119.99 for a year.
The app has a total of 27 courses with two categories: Soloist and Chords.
The soloist track, as the name suggests, will help you learn solo pieces which have accompaniment and the melody. The course has interactive videos explaining all the important details. After the videos, you will go to the learning interface to learn more concepts.
The chords section teaches you chords for renowned pop, rock, jazz songs.
This app also offers 5-Minute Workout sessions to practice and reinforce what you have learned. There's sheet music present for you to practice reading skills.
Lastly, the Songs section has tons of songs for you to practice, and it even has songs broken up into intro and chorus sections for better learning. Practice the notes playing with the songs, and the app will tell you how many notes you got right.
Overall, this is a solid app for learning piano with tons of features to use.
3. Piano by Yousician - Learn to play piano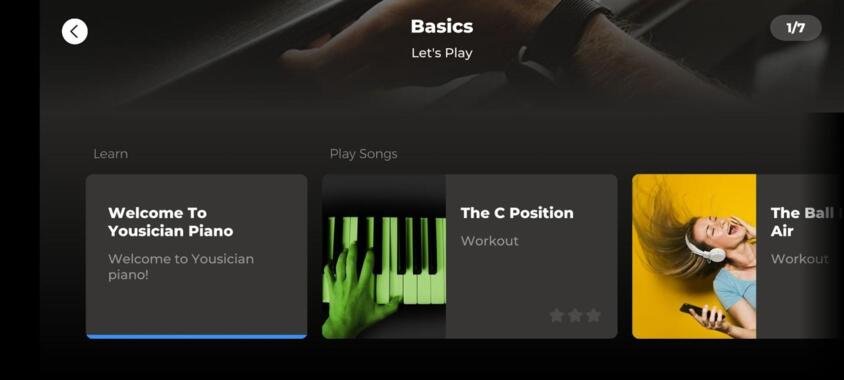 Source: Piano by Yousician - Learn to play piano app
With Yousician, you can learn the piano through high-quality and enjoyable music lessons.
Yousician has a 7-day trial period for you to experience the app's features. Then, it's $19.99 a month for its premium services. Premium+ costs $29.99 per month. The yearly subscription, however, is $19.99 every month.
Similar to other apps, the app listens through the mic while you play piano or keyboard. It's a pretty decent app that picks up your notes. You will learn through lessons, and the app will let you advance to the next stage only after you've hit your mark.
You can practice playing notes on this app. The app will offer feedback instantly, telling you if you've hit the correct notes or not. Getting instant feedback is great for tweaking things if you make mistakes. There are many songs included for you to practice and get in tune with.
The app's curriculum is for everyone, even the expert piano players. The lessons are also great for music teachers. Yousician has over 1500 lessons and exercises covering different skills for piano. The lessons will help you improve your piano skills over time, and you can learn them at your own pace.
4. Skoove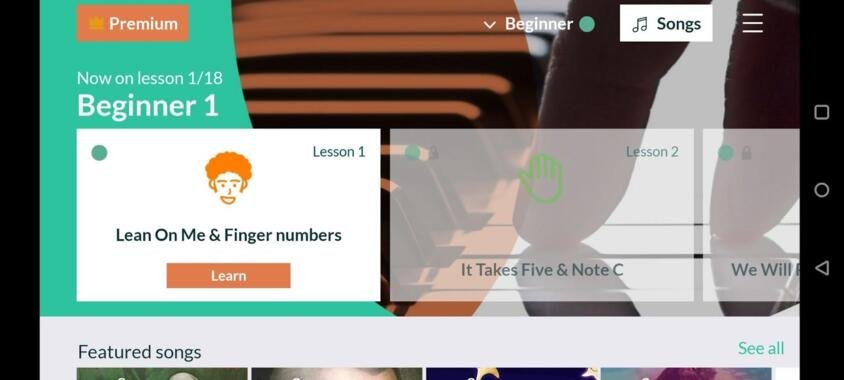 Source: Skoove App
With the Skoove app, beginners can learn piano with ease. The app contains popular musical pieces to teach newcomers about reading the music and chords.
The free package of Skoove has three lessons to get an idea of how the program is and how it works. The subscription for Skoove premium costs $9.999 a month for casual learners. There's also a three-month plan which costs $13.33 per month.
The app supports all types of pianos and will recognize notes from the device's mic. Both USB and Midi keyboards are supported.
You can start from the 'Courses' panel to start learning after the initial setup. The instant feedback feature is also there. Skoove has a process that tells users to listen, then learn, and finally play. The sheet music is presented on-screen as well as a keyboard. You can follow the instructions and play alongside and can spot where you make mistakes.
There are 300 lessons which span over 19 courses—starting from beginner to intermediate. Songs are also present and can vary for different levels.
5. Perfect piano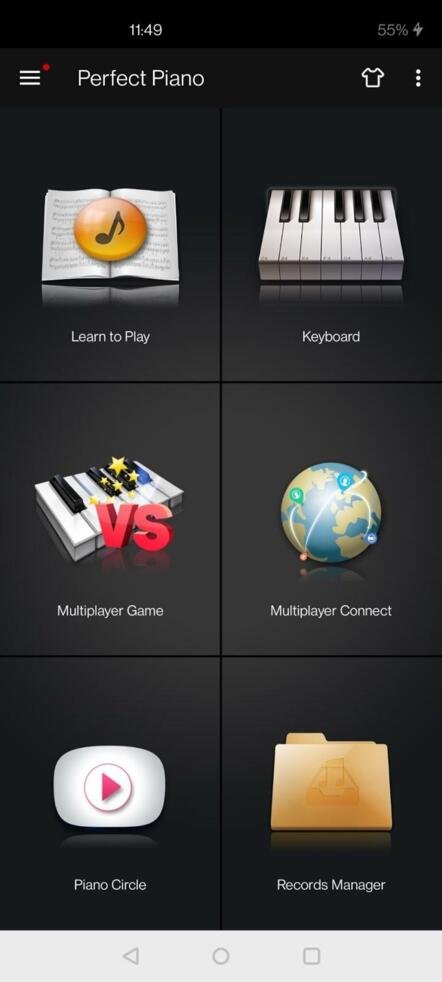 Source: Perfect Piano App
Perfect Piano has different learning modes, playing modes, and supports keyboard inputs as well.
The subscription is $0.99 a week and $5.99 for one year of VIP access.
The app can give you a great experience of playing the piano. It also supports multi-touch in the multiple keyboard view mode.
There is a falling ball mode, where you need to match the notes and waterfall model with similar work. The Music sheet mode helps you with understanding music sheets too.
There are 70 sample songs and the library updates each week. You can practice songs and can change the difficulty levels.
You can record what you play and share them anywhere. There are a total of 9 sounding keyboards. A metronome is present for your help.
6. Pianote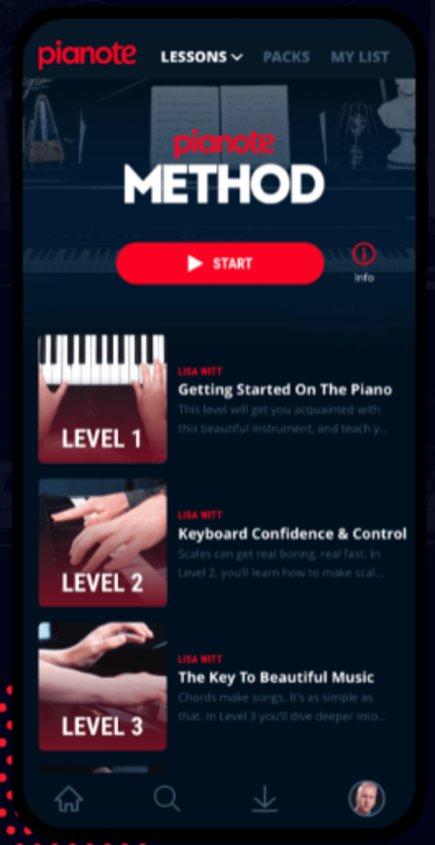 Source: Pianote Website
Pianote is a great app for young and advanced learners to learn the piano with excellent resources and a well-developed curriculum.
The subscription costs $3.79 per week with a 90-day money-back guarantee. The annual cost is $197. You will get unlimited access to all the lessons and use the progress tracker feature.
Pianote offers its users high-quality review videos, practice plans, and teachers who provide you with life lessons. The live lessons can range from twenty to forty minutes. Teachers will answer questions during the time as well. Students can submit after they play a song, and the teacher will give them feedback and suggestions. There are weekly live Q&A sessions to attend.
One of the great aspects of this app is that it has structured learning. There are ten levels of lessons to build up your basic skills as a pianist. You will learn skills like sight-reading, reading notes, chords, and improvisation. You can watch the videos and practice along as well. The app also teaches chords and scales, which is a fundamental aspect of playing the piano.
The app provides users with lots of songs, along with the sheet music and chord chart. The songs are also categorized by difficulty level.
Pianote also features a large community in open forums, where users can communicate with each other. With all these amazing features, Pianote is a great app to consider.
7. Piano academy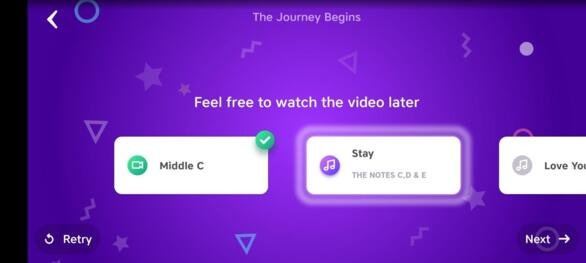 Source: Piano Academy app
The Piano Academy is an app for people looking to learn the piano from scratch. People can learn piano and play along with their favorite songs.
The app has a weekly subscription plan of $6 and roughly $18 for the month.
The app has a MIDI connection for you to use your keyboard if you have it. Like most apps, the app will understand notes that you play. The app has an on-screen keyboard too.
The main features of the app include in-depth tutorial videos by a private tutor. You can learn topics like notes, chords, staff, and other piano theories. You can watch the videos whenever you want and practice.
Instant feedback is available, so you know where you make mistakes. There are also fun games in the app to improve your musical hearing, hand and eye coordination, and rhythm.
Moreover, there is a staff player who imitates real sheet music. The music and notes sync is perfect, and you can follow along. All these amazing features make the Piano academy a great app to start learning the piano.
8. Piano in 21 days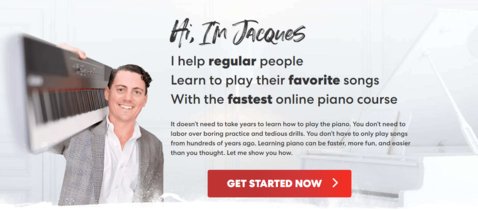 Source: Piano in 21 days
Piano in 21 days, as the name suggests, offers to learn the piano in 21 days. The courses start with free materials. Payment plans start at $57. Additionally, there are one-time payment options that go up to $497.
You can learn the lessons through the workbooks or guided videos. The videos are well made and can be called "Bite-Sized". Instructor Jacques Hopkins does the videos.
The videos are very precise and structured. Even though it's not live, the instructor keeps a positive environment. They break down basic chords from advanced ones down to the fundamentals. There is a Student center chat for live discussions where you can ask questions.
There are smart tips to learn music using popular songs. In the course, four chords are mentioned by which you can play 36 popular songs. These tips are helpful to train your ear and recognize chords.
Workbooks and exercises are a great way to practice gradually. The video guides are detailed. With such a variety of ways to learn the piano, the app is really good for playing the piano.
9. Perfect Ear - Music Theory, Ear & Rhythm Training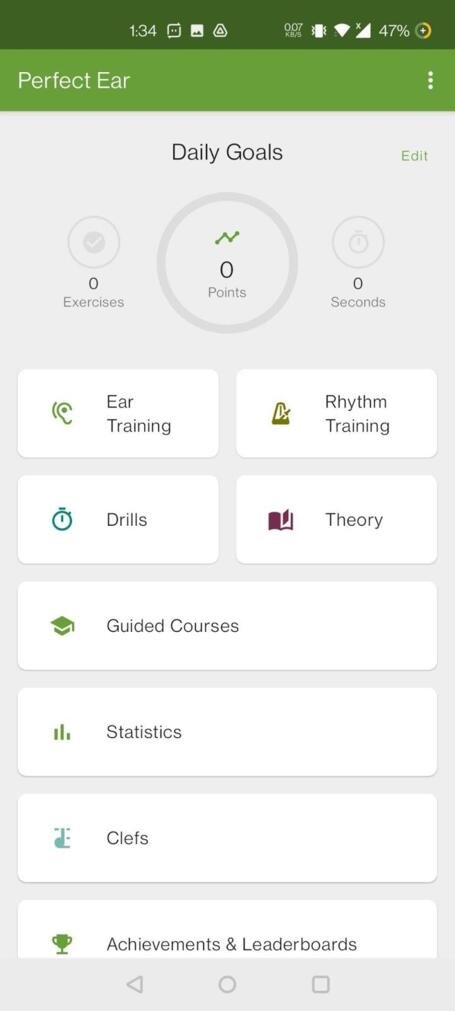 Source: Perfect Ear - Music Theory, Ear & Rhythm Training app
The Perfect ear app will help you learn some of the key aspects of playing the piano.
With the help of this app, you can learn chords, scales, and intervals and recognize melodies by your ear. Sight-reading the music is also taught here.
Three are three guided courses in the app, starting from beginner to advanced.
A feature of this app is ear training exercises. These training exercises are set for interval comparison, interval identification, interval singing, and interval reading. You can even find statistics for them. Scale exercises and chord exercises are also similar.
Theory for each of the scales, chords, and intervals is present and broken down for new learners to learn better. The theory section is separate and has nine individual lessons.
Rhythm training is present to improve your sense of rhythm. Drills are also present for your practice. All these amazing features make this app a good place to start learning the piano.
10. Vivace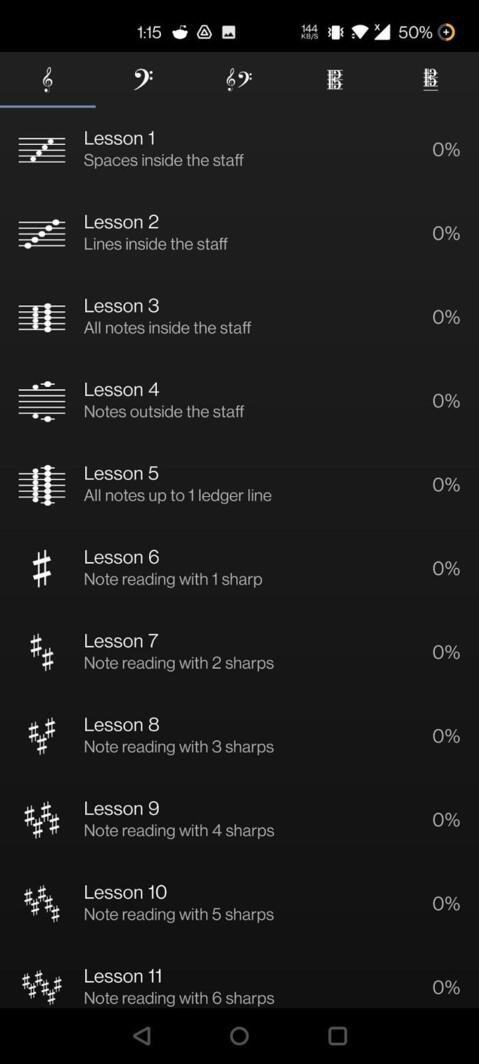 Source: Vivace app
With Vivace, you can learn different techniques of learning the piano.
You can spend a dollar for the removal of ads in the premium upgrade.
The tutorials are well made with over a hundred lessons. The lessons will teach you the basics of piano, including notes and music theory.
Trainer mode teaches you with different clefs. The app has features that sharpen your understanding of treble and bass, grand staff, tenor, and alto. The lessons are set in categories by clef. The notes are ranged up to 4 ledger lines. These lines are for Treble, bass, alto, and the tenor clef.
You can also practice the notes by combining clefts and key signatures in random exercises.
Parting Words
These are some of the best apps to learn piano on Android. Which one of these is your favorite? Download the right fit for you and start learning the piano today!