Piano Teachers in Canada who teach Ear Training
On this page we have prepared you a list of piano teachers in Canada that accept new piano students. Please choose one that you like and click on a selected piano teacher to see more details about it, and on that page if you have any question, you can always contact that teacher directly with the help of a contact form on the public piano teacher profile page, once you do that, please give 1 day for a teacher to reply to your message.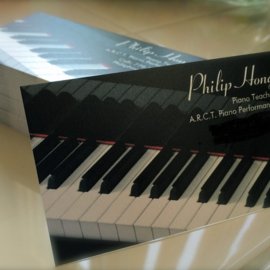 I am a piano teacher in Vancouver with over 15 years of teaching experience to students of all ages and levels. In addition, I am a registered piano teacher with the Royal Conservatory of Music (RCM), with an ARCT Piano Performance Diploma.
My lessons are tailored to each student's specific goals, such as completing the RCM Practical Piano program and learning classical or pop music for fun. I am professional and patient, with a genuine passion for teaching and music.
I offer a free 30-minute trial lesson to anyone who is interested, so that prospective students can make an informed decision before hiring me.
I guess you'll agree with me that being able to play amazing piano anytime, anywhere, even without a prepared piece, is downright FUN! This is the mark of a play-by-ear musician.
Hi. I am Anton R. Tajanlangit, founder of the Canadian Piano Society and music teacher for more than 30 years now. I'm offering to teach you, aside from also reading notes, how to be proficient in playing the piano by ear. I have a teaching studio in Toronto, Ontario, Canada, called the 88 Piano Keys Music Studio. It is an online music studio. My method cannot be found anywhere else, even on the web. If it works for me, then it should work for you, too!
If you are interested in taking Royal Conservatory exams, then I can get you there.
Watch some of my videos on my Youtube channel, https://www.youtube.com/c/CanadianTonality and also, listen to me play on my website, https://antonality.com.
All of these pieces were played without sheet music!
I teach one-on-one, whether you're a beginner or an advanced student. There are just a few more spots left, so grab them now before they're all gone! Lessons start at $40 for half-hour lessons.
Call me at (647) 518-9965 for more information, or email me at any of these addresses:
anton@88pianokeys.ca
antonality@gmail.com
See you soon!