Top 5 Digital Pianos For Home
Quite often, we think that music works only for entertainment, but it also has other effects. For example, a piano stands to be scientifically proven to have physical and mental benefits.
It can help increase your dexterity, hand-to-eye coordination, improve your concentration, and expand your aural skills.
You need to consider many intricate components in a well-made piano before getting your first one. We recommend digital pianos used on stages for home use, as they have all the basic functionalities.
Read on to find out how you can start learning the piano and our top 5 picks of digital pianos for home.
What Are The Benefits of Playing The Piano?
First, you should know what benefits you get when you play this instrument and how it affects you.
We have categorized the benefits that one gets from playing the piano into different groups. Let's have a quick overview of all these sections.
Intellectual Benefits
This group mainly comprises of the cognitive and fine motor skills that we develop by playing the piano.
Enhanced Memory
When you learn the piano notes and keys, your brain gets worked up, and eventually, your memory improves.
According to the NCBI, if you spend at least four months learning the piano, you're more likely to have improved cognitive behavior.
Improved Thinking Ability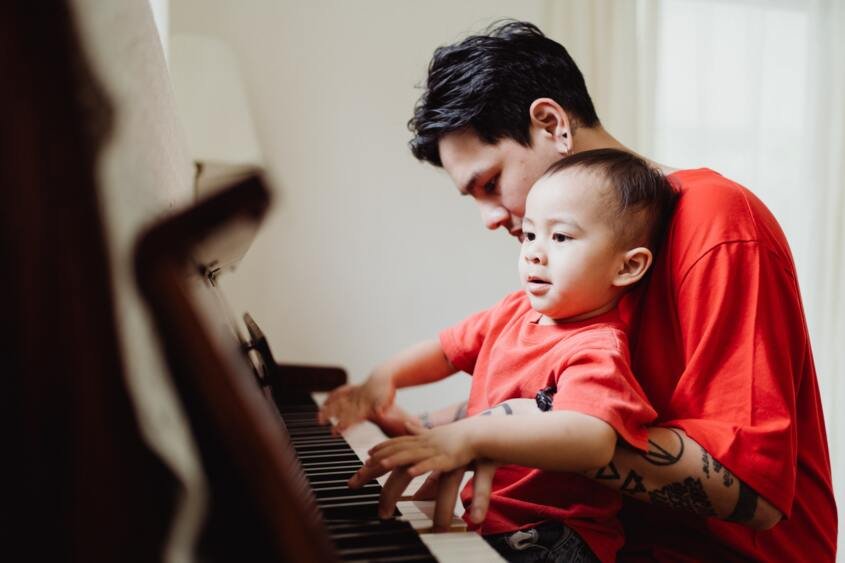 Photo by Ketut Subiyanto from Pexels
Researchers have recently found out that myelination that usually happens during childhood can occur even when you play an instrument. This leads to increased thinking capabilities even as an adult.
Expanded Aural Skills
This is one of the obvious ones because if you're playing an instrument, you will have an improved 'musical ear.',
Sharpened Focus
Playing the piano is a multitasking job where you focus on several things all at once. This significantly improves your concentration on a particular subject.
Physical Benefits
Like football, the piano also has physical benefits - minus bad injuries.
Improved Hand to Eye Coordination
Practicing the piano will eventually make you ambidextrous, even if you weren't before. Your typing skills also improve once you get the hang of the instrument. It can also strengthen your fingers.
Enhanced Health
A study concluded that practicing the piano increases the production of HgH that sustains high energy levels. Due to this, not only will the tissues of your organs heal faster, but even your skin will look clearer.
Emotional Benefits
Music therapy is currently very sought-after due to its effectiveness and easy accessibility.
Decreasing Stress
Playing the piano has a calming effect that combats depression and other mental issues.
Boosted Self-confidence
Being able to complete intricate pieces is encouraging and also brings about a feeling of well-being.
Personal Benefits
Your overall life improves once you start playing the piano regularly. Here are a few key takeaways that you benefit from personally:
Time management

New opportunities

Composing own music

Improved life from all aspects.
Social Benefits
Other than personal growth and improvements, playing the piano also helps you broaden your network with people.
Expanded Social Network
Finding like-minded people becomes easier once you hone a skill. It creates possibilities for you to meet people from the music industry.
Taking Criticism Well
Constant constructive criticism from those around you lets you deal with other relationships better. The feedback will also open up room for improvements in your music.
Check out this article of ours if you wish to know more about the benefits of playing the piano.
How To Pick A Digital Piano
The next step for you to take is to choose a suitable digital piano for yourself.
We recommend digital pianos for beginners before jumping into acoustic ones as they are a lot easier to use. Now, if this is your first time, there are a few things that you should consider.
Here's a list of the major things you should look into before getting your first digital piano for home:
Sound Quality

Number of Keys in the piano

Touch Response and action of the keyboard

Polyphony (number of tones produced at once)

Speakers and Amplifiers

Measurements

Budget.
How To Start Playing The Piano
Absolute beginners struggle with how they can start learning the piano after they buy the instrument.
The most straightforward answer is obviously to get yourself admitted to a piano school and learn from professionals. You can even get a detailed guide to learning the piano with online resources and help from tutors too.
Top 5 Digital Pianos For Home - Review
To make your job a lot easier, we have reviewed the top 5 picks of digital pianos for home below.
1. Casio PX-870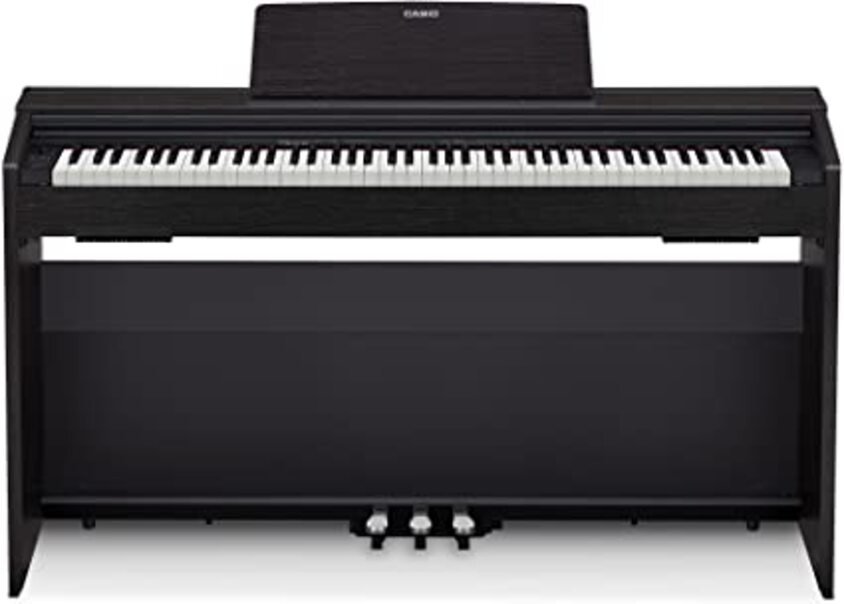 This piano stands as the flagship product in the Privia line, yet it is also the best value piano on our list. The Tri-Sensor Acton Keyboard used on it feels excellent after every touch.
In addition, the keytops have textured ebony and ivory that look very chic.
The dual 20W speakers sound outstanding, along with its audio engineering. So, even though the keys might get a bit noisy, it isn't much of an issue once you start playing.
Overall, this is a great deal of a product that comes with unique beginner-friendly features without costing a fortune.
Pros
Dubbed with Multi-dimensional Morphing

About 2500 min of audio recording

Very responsive keys

Slim and modern design

256 note polyphony.
Cons
Not portable enough

The keys might be a bit too noisy for some.
To Purchase This Of Amazon Click Here!
2. Yamaha Piaggero NP-12

Yamaha is a pretty famous brand when it comes to pianos. As for digital ones, we think the Piaggero NP-12 could be one of their best.
This piano comes with AWM Stereo Sampling with about ten preset tones. These produce the perfect sound along with four types of reverb. As the footprint is compact, children can use this very swiftly.
Despite being slim and lightweight, you need about 6 AA batteries to operate this synth-action piano. In addition, you can connect this 61 keys keyboard to a ¼" headphone jack and a USB to Host.
Pros
Compact and lightweight

The sound on this is excellent

Great for kids that are just getting started

Has 20 preset songs

Runs on batteries
Cons
Headphone jack set on the back

Doesn't come with a sustain pedal
To Purchase This Of Amazon Click Here!
3. Roland RP-102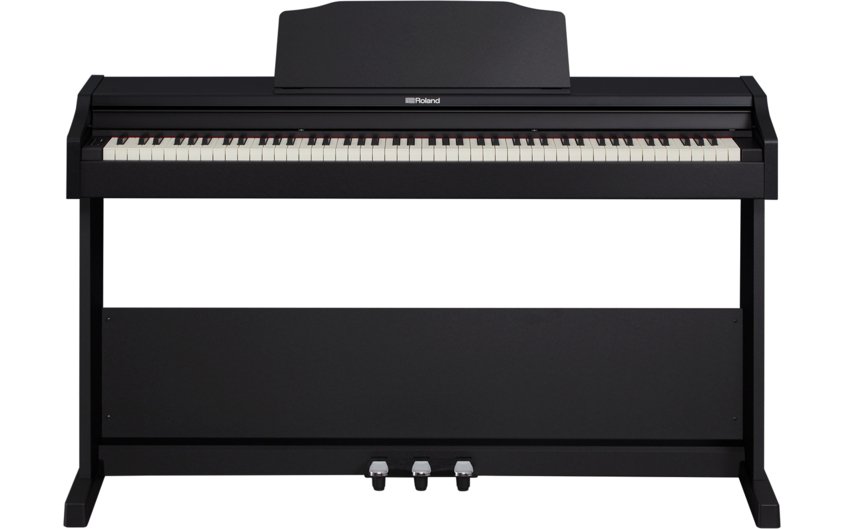 Despite being new, Roland has not compromised any of the features you will look for in a beginner's piano.
This device comes with a PHA-4 Standard keyboard that is pretty realistic given its price point. In addition, you get 88 fully weighted keys that come with ivory simulation.
The superNATURAL sound system on this piano gives natural decay and an extended dynamic range. The ambiance and brilliance level on it is suitable enough to play at home.
Moreover, the additional features and specifications on the RP-102 make it worth giving a try.
Pros
Traditional cabinet style

Four4 realistic grand piano sound

200+ preset songs

128-note polyphony

Has Bluetooth connectivity
Cons
Speakers are not very powerful

Needs navigation with the app
To Purchase This Of Amazon Click Here!
4. KAWAI KDP110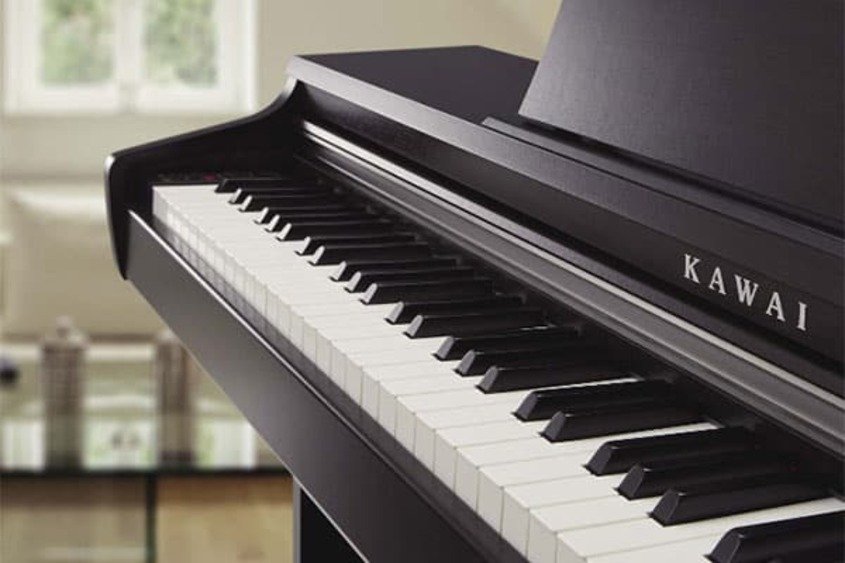 You can't get a better deal than this if you're looking for a furniture-style digital piano that is both beginner-friendly and budget-friendly.
KAWAI is an underrated brand that makes fantastic keyboards. The KDP110 uses a Harmonic Imaging engine that gives deep, nuanced tones.
On top of that, there are 88 fully weighted keys on this thing with matte black and/or white keytops.
The key action is as swift as it can get and comes in four touch sensitivity settings. The piano has dual 20W speakers that produce sound in two modes- dual and four-hand.
Even though you get Bluetooth connectivity, unfortunately, the device lacks a USB to Device Port connectivity setting.
Pros
Elegant and minimal design

Rapid response of the keys

192-note polyphony

Options for sound tweaking

Five built-in songbooks.
Cons
Lacks a display to control parameters

Complex control settings.
To Purchase This Of Amazon Click Here!
5. Yamaha YDP-164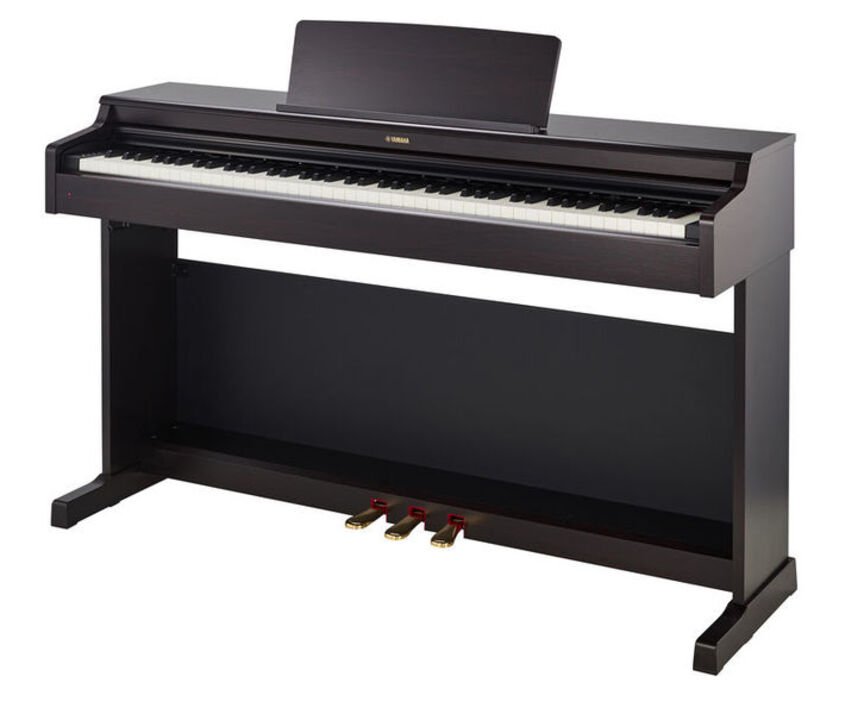 Last but not least, we have another product by Yamaha, the YDP-164. It comes with all the improved features that its predecessor YDP-144 may not have possessed.
The sound system on Yamaha products always hit the sweet spot. Similarly, this piano comes with CFX sampling even though it falls in an affordable price range.
Graded Hammer 3 (GH3) action is one of the prime features of this piano. Unfortunately, it is very hefty and somewhat heavier than actual acoustic ones.
However, if you're on the lookout for a good digital piano that won't need you to break the bank, then this is what we recommend.
Pros
Sturdy, durable built

USB audio interface feature

Ten instrument sounds where 3 are pianos

192-note polyphony

Fifty preset songs with MIDI recorder.
Cons
Limited tweaking options

Doesn't have Bluetooth connectivity
To Purchase This Of Amazon Click Here!
Conclusion
Hopefully, you've decided on a suitable choice from our top 5 picks, considering their portability, sound quality, and build.
All you need now is to get started with a professional pianist. Your ideal teacher might even be waiting for you here!
Our experienced teachers can cater to each student according to their progress and needs. Whether you're a complete beginner or a former player, revamp your skills with The Best Piano Teachers near you!
So, which digital piano are you looking to buy? Let us know in the comments below!